08/24/2020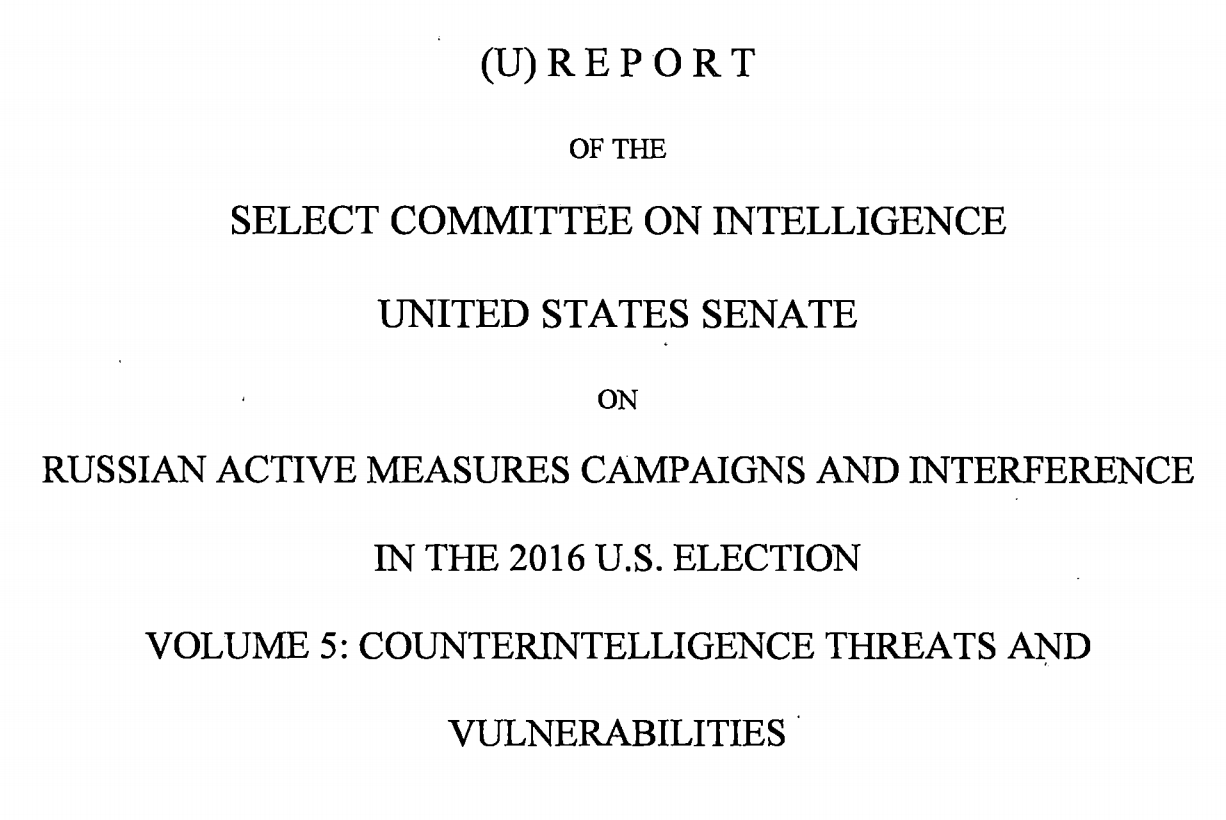 With the 2020 U.S. presidential election less than 80 days away and the COVID-19 pandemic affecting the country's daily operations, the political world has been center stage. Last week, the Senate Intelligence Committee released its lengthy, final report, Volume 5, on the Russian Active Measures Campaigns and Interference in the 2016 U.S. Election. Though the Intelligence Committee was Republican-led, the report is bipartisan, involving both Democrat and Republican input. The report is a three-year culmination of probing countless documents, interviews, and emails. The investigation resulted in what the committee considers, "the most comprehensive description to date of Russia's activities and the threat they posed." The report concluded: "The Committee found that the Russian government engaged in an aggressive, multifaceted effort to influence, or attempt to influence, the outcome of the 2016 presidential election." The extensive, nearly 1,000 page report focused on various aspects of Russian interference in the 2016 election. Here are some key issues and takeaways of Volume 5. (For our prior summaries, visit here for Volume 4 and Volume 1.
Paul Manafort's relationship with Russian individuals was a "grave counterintelligence threat"
Paul Manafort is a political consultant and former lobbyist who is known for having multiple ties to powerful politicians and businesspeople throughout the world, specifically Russia and Ukraine. In March 2016, Manafort was hired by the Trump Campaign as convention manager and by May 2016, he was promoted to chairman and chief strategist. The report stated the Trump campaign conducted "no known vetting of him, including his financial situation or vulnerability to foreign influence" (p. 27). The report further highlights that once Manafort was hired onto the Trump campaign, he quickly sought to use his position to resolve his various multi-million-dollar foreign disputes and acquire other work in Ukraine and other locations. Also, Manafort hired Russian national Konstantin Kilimnik, who served as a close liaison between Manafort and Russian oligarch Oleg Deripaska and other pro-Russia Ukrainian oligarchs. The committee found that "on numerous occasions, Manafort sought to pass sensitive internal polling data and campaign strategy to Kilimnik." Though the committee was not able to find what Manafort and Kilimnik did with this information, there was continuous engagement between Manafort, an American campaign official and various Russian intelligence personnel. Moreover, "[a]fter the election, Manafort continued to coordinate with Russian persons, particularly Kilimnik and other individuals close to Deripaska, in an effort to undertake activities on their behalf. Manafort worked with Kilimnik starting in 2016 on narratives that sought to undermine evidence that Russia interfered in the 2016 U.S. election." (p.6) The bipartisan committee described Manafort's relationship "a grave counterintelligence threat" (p. vii). (As a part of the Mueller investigation, Manafort was convicted by a jury of various charges of tax and bank fraud.)
Michael Cohen negotiated with Russians to help secure approval for Trump Tower Moscow; Trump praised Putin
In September 2015, shortly after Donald Trump announced his candidacy, Trump and the Trump organization pursued a business deal in Russia. Michael Cohen, the Trump organization's then executive vice president and Trump's personal attorney, received two offers from Russian businessmen to create a Trump Tower in Moscow. The negotiations for this deal commenced from September 2015 to October 2015 until both parties agreed to a Letter of Intent (LOI) that laid out terms involving millions of dollars paid to the Trump organization. In November 2015, the LOI was signed. Cohen kept Trump informed on the status of the deal and while these negotiations were taking place, Trump made positive public comments throughout his campaign about Vladimir Putin, the Russian president. The report states that Cohen, "at various times understood that both Putin's and Trump's comments could be useful in advancing the deal," (p. 407). Even dating back to 2007, Trump wrote a letter to Putin congratulating him on being named Time's "Man of the Year." However, the deal for Trump Tower Moscow fell through in summer of 2016.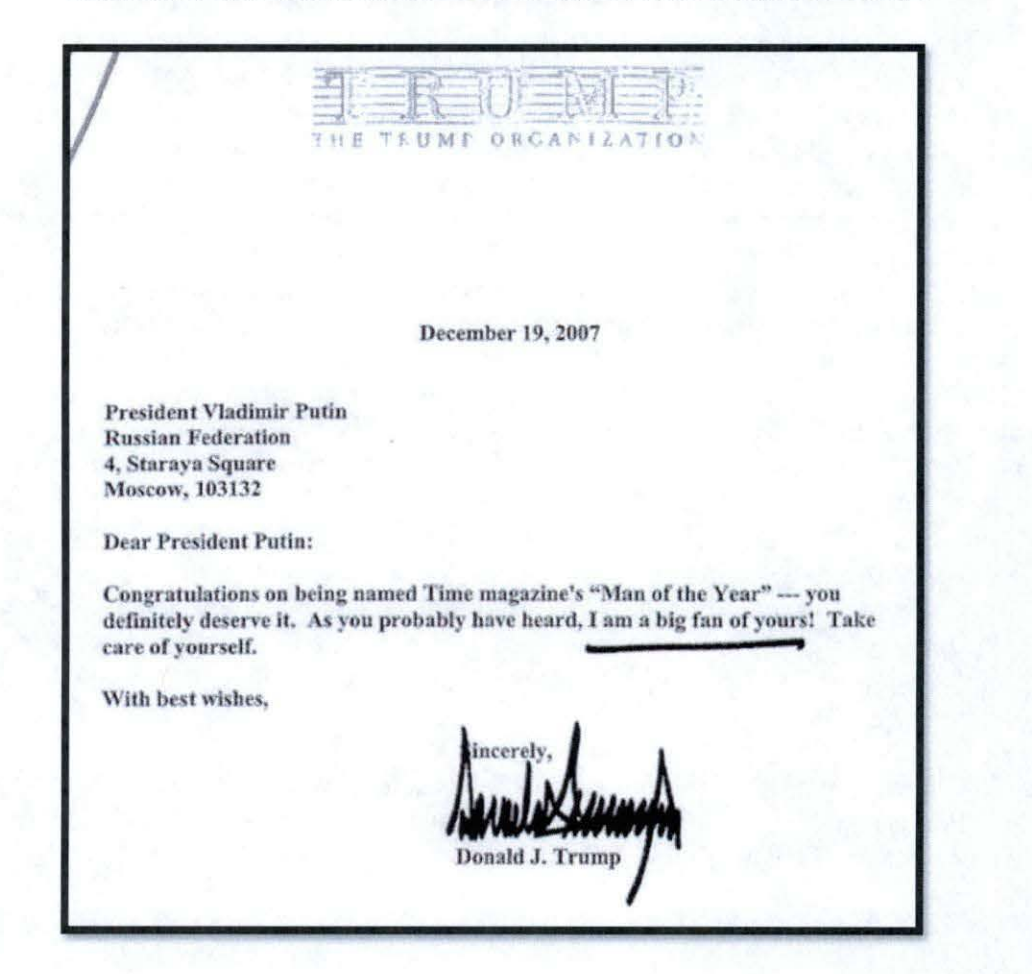 2016 Trump Tower Meeting among Donald Trump Jr., Jared Kushner, Paul Manafort, Russian lawyer Natalia Veselnitskaya
In June 2016, a meeting was held in the Trump Tower in New York City. This meeting involved Donald Trump Jr., Jared Kushner, Paul Manafort, Natalia Veselnitskaya, a Russian lawyer, and her four associates. The Committee found it very difficult to find evidence of the contents of this meeting and had to rely on conflicting witness testimony. However, the committee found that Donald Trump Jr. was expecting to receive "derogatory information" that would come from persons connected to the Russian government; however this information was never transmitted. Another alarming aspect of this meeting is the presence of Veselnitskaya. She is not only a Russian lawyer, but she has previously worked with and keeps in contact with various senior members of the Russian government. She has worked as defense counsel for the Russian government and a Russian business, Prevezon Holdings, in cases involving millions of dollars of fraud. The committee found her ties with powerful Russians, "extensive and concerning," (p. ix).
Putin Ordered the Hack of DNC Computers; Wikileaks helped; Roger Stone was a liaison
"The Committee found that Russian President Vladimir Putin ordered the Russian effort to hack computer networks and accounts affiliated with the Democratic Party and leak information damaging to Hillary Clinton and her campaign for president. Moscow's intent was to harm the Clinton Campaign, tarnish an expected Clinton presidential administration, help the Trump Campaign after Trump became the presumptive Republican nominee, and undermine the U.S. democratic process." (p. vii) Moreover, "Wikileaks actively sought, and played, a key role in the Russian influence campaign and very likely knew it was assisting Russian intelligence influence effort." (p. vii) In addition, "Trump and senior Campaign offici.als sought to obtain advance information about WikiLeaks's planned releases through Roger Stone." (p. vii)
The FBI's Response to the DNC Hack
The committee also investigated an aspect of this issue that was not explored in Robert Mueller's report from 2019. The committee investigated the FBI's response to the DNC's computer network hacking issue. From July 2015 to October 2016, the DNC was subject to Russian hacking. This was a novel issue given that a nation-state had never intentionally hacked an American private political party, taken information, and used it against a nation through leaking it publicly. The DNC was hesitant to have the FBI address this issue due to their ongoing investigation of Hillary Clinton's email servers. What makes this issue even more complicated is during this hacking, the FBI was already looking into the domestic impact of foreign threats during a U.S. presidential election, so why did they not help the DNC sooner? The committee found that both the DNC and the FBI were not as communicative as they needed to be. The FBI also "lacked an appropriate process to escalate their warnings of the DNC hack within the DNC," (p. 816).
FBI's Reliance on Steele Dossier
The Committee also found the FBI should have verified the controversial Steele dossier that formed the basis of its investigation of Trump's possible connection with Russia: "Regarding the Steele Dossier, FBI gave Steele's allegations unjustified credence, based on an incomplete understanding of Steele's past reporting record. FBI used the Dossier in a FISA application and renewals and advocated for it to be included in the ICA before taking the necessary steps to validate assumptions about Steele's credibility. Further, FBI did not effectively adjust its approach to Steele's reporting once one of Steele's subsources provided information that raised serious concerns about the source descriptions in the Steele Dossier. The Corhinittee further found that Steele's reporting lacked rigor and transparency about the quality of the sourcing." (p. xix)
Committee Avoids Issue of "Collusion" with Russia
The one major issue that the report avoids specifically addressing is whether the Trump campaign colluded with Russia in the interference. Some Senators appended "Additional Views" on that issue. See pp. 941-952.
--written by Mariam Tabrez