08/12/2020
In July 2020, Facebook reported that it had removed nine networks of fake accounts, pages, and groups for violating its policies against coordinated inauthentic behavior (CIB). As Facebook's July 2020 CIB report explains, CIB means coordinated efforts to manipulate public debate for a strategic goal where fake accounts are central to the operation, including both domestically non-government campaigns and activities on behalf of foreign entities. Facebook removed:
798 Facebook accounts
259 Instagram accounts
669 Facebook pages
69 Facebook groups.
Some of the fake accounts targeted U.S. users, ahead of the 2020 U.S. election. Facebook removed 35 Facebook accounts, 3 pages, and 88 Instagram accounts originating from a suspected Romanian troll farm. Facebook explained: "The people behind this network used fake accounts — some of which had already been detected and disabled by our automated systems — to pose as Americans, amplify and comment on their own content, and manage Pages including some posing as President Trump fan Pages. This network posted about US domestic news and events, including the upcoming November election, the Trump campaign and support for the campaign by African Americans, conservative ideology, Christian beliefs, and Qanon. They also frequently reposted stories by American conservative news networks and the Trump campaign." According to NBC News, "Troll farms — groups of people that work together to manipulate internet discourse with fake accounts — are often outsourced and purchased by foreign governments or businesses to push specific political talking points."
The Romanian troll farm Facebook accounts were following a similar tactic of Russian operatives who posed as Black Lives Matter supporters to undermine Black voter supporter for Hillary Clinton. Similarly, Facebook found that some of the fake Romanian accounts posed as Black Trump supporters. The Romanian troll farm used hashtags like "Blackpeoplevotefortrump" and "We Love Our President" to post pro-Trump comments, spread information supporting the Republican Party and Qanon, and advertise Trump campaign. Altogether, these Romanian accounts allegedly drew around 1600 followers on Facebook and 7200 followers on Instagram. One example Facebook provided is shown below: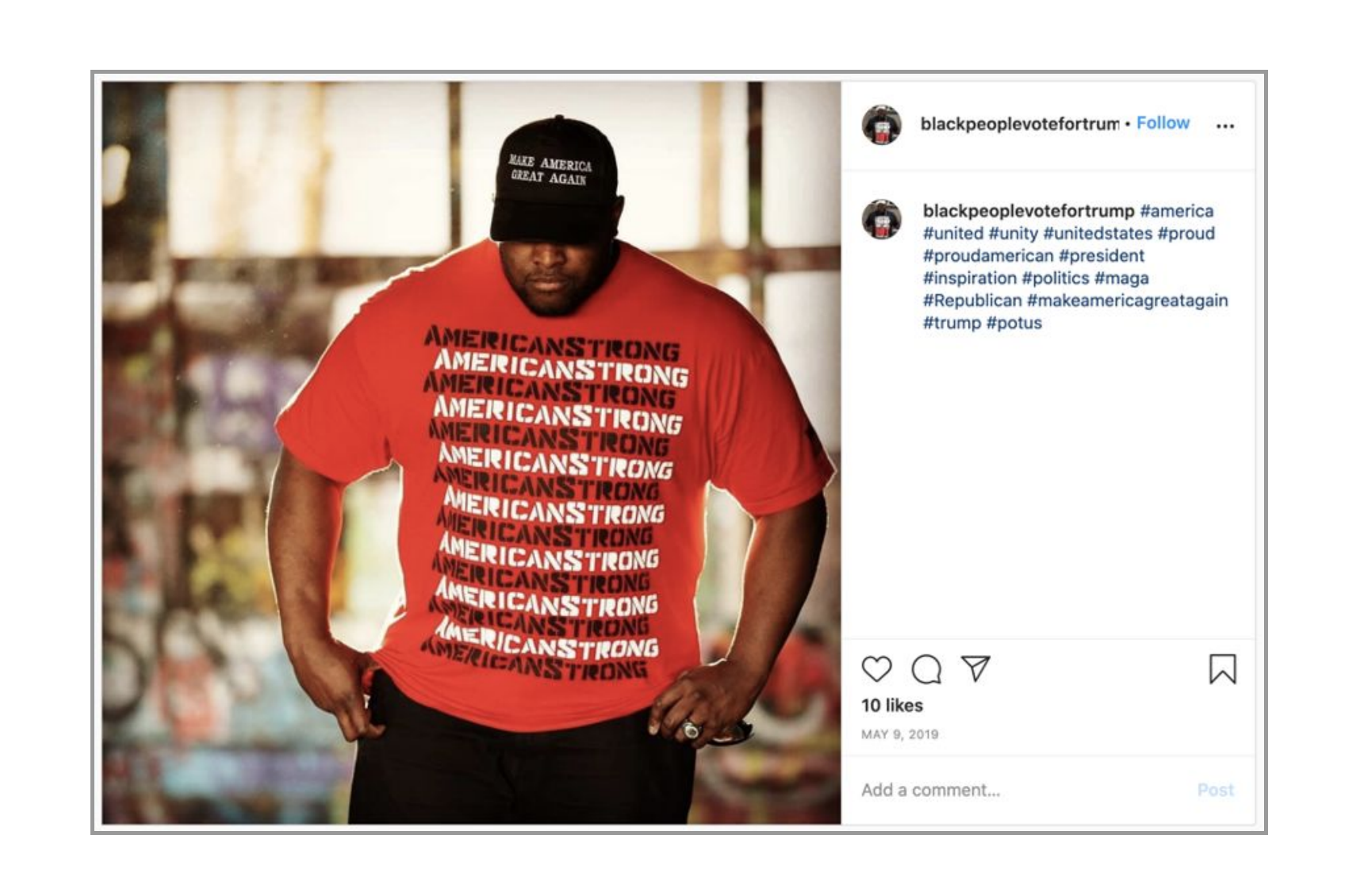 Fake "blackpeoplevotefortrump" account run by Romanian troll farm on Facebook
These fake accounts were taken down for engaging in coordinated inauthentic behavior, Facebook explained.
As reported by NBC News, Facebook also removed 303 Facebook accounts, 181 pages, 44 groups, and 31 Instagram accounts that were followed by 2 million people. These accounts were connected to Epoch Media Group, a pro-Trump media outlet. The accounts violated Facebook's policies against coordinated inauthentic behavior and foreign interference. This network operated from many regions around the globe and focused primarily on English and Chinese-speaking audiences globally. These accounts posted about news and comments related to the Chinese government such as the Hong Kong protests, the US administration's policies towards China, the Falun Gong movement, conspiracy theories behind the US protests and COVID-19 misinformation, according to Facebook. Additionally, Facebook said it linked this network to Truth Media, which was involved in Facebook's previous investigation for violating policies against coordinated inauthentic behavior, spam and misrepresentation and which has now been banned on Facebook.
--written by Candice Wang