09/01/2020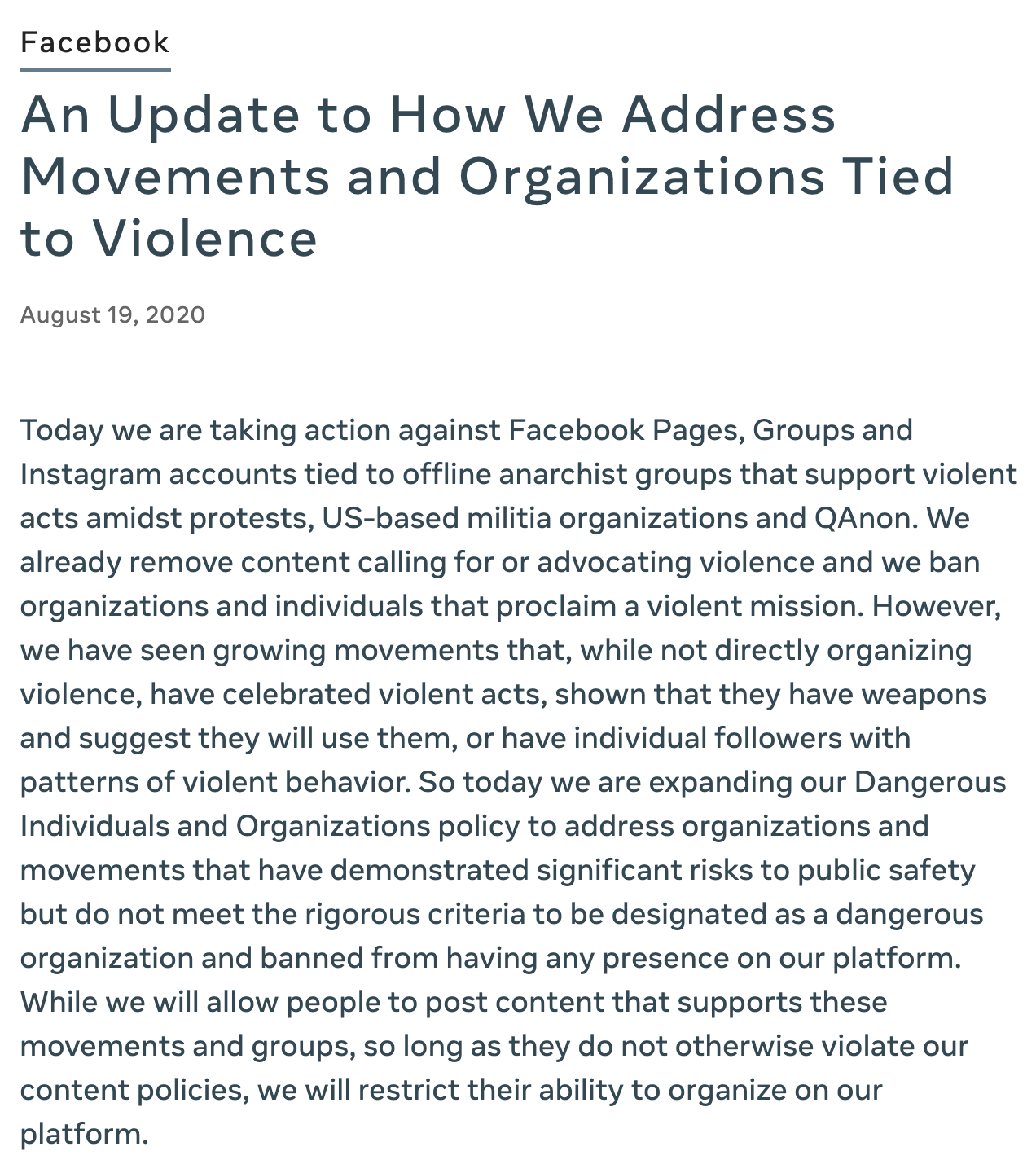 On August 19, 2020, Facebook announced a change to its community standards in moderating content on Facebook for safety reasons. Facebook's community standards already require the removal of content that calls for and advocates violence and the removal of individuals and groups promoting violence. Facebook now will restrict content that doesn't necessarily advocate violence, but is "tied to offline anarchist groups that support violent acts amidst protests, US-based militia organizations and QAnon." Facebook explained, "we have seen growing movements that, while not directly organizing violence, have celebrated violent acts, shown that they have weapons and suggest they will use them, or have individual followers with patterns of violent behavior." U.S. based militia organizations and far-right conspiracy, QAnon, have begun to grow on the social site. As we reported, earlier in July 2020, Twitter suspended 7,000 users who supported Qnon conspiracy theories. Facebook followed suit by removing 790 QAnon groups on Facebook (including one group that had 200,000 members) and 10,000 Instagram accounts in August 2020.
Facebook listed seven actions they planned to take against movements and organizations tied to violence:
Remove From Facebook: Facebook Pages, Groups, and Instagram accounts that are a part of harmful movements and organizations will be removed from the platform when they discuss potential violence. To help identify when violence is taking place, Facebook plans to study the technology and symbolism these groups use.
Limit Recommendations: Pages, Groups, and Instagram accounts associated with harmful organizations that are not removed will not be recommended to people as Pages, Groups, or accounts they might want to follow.
Reduce Ranking in News Feed: Looking forward to the future, content from these Pages and Groups will be ranked lower in the news feeds. This will lessen the amount of people who see these pages on their news feed on Facebook.
Reduce in Search: Hashtags and titles for related content will be ranked lower in search suggestions and will not be suggested in the Search Typehead.
Reviewing Related Hashtags on Instagram: On Instagram specifically the Related Hashtag feature has been removed. This feature allowed people to view hashtags that were similar to those they use. Facebook is clear that this feature could potentially return in the future once they have introduced better safety measures to protect people when utilizing the feature.
Prohibit Use of Ads, Commerce Surfaces and Monetization Tools: Facebook starting softly has planned a two-step action, against the prohibition of Ads and the use of the Marketplace to in relation to these movements. Currently they have stopped Facebook Pages related to these movements from running Ads or selling products through the Marketplace and Shop. In the future, Facebook plans to take stronger action stopping Ads praising or supporting these movements from being run by anyone.
Prohibit Fundraising: Finally fundraising associated with these groups will be prohibited. Nonprofits who identify with these groups will be disallowed from using the Facebook fundraising tools.
With the new policy, Facebook expands its existing policy against violence to include the removal of groups and individuals that impose a risk to public safety. The threshold previously, according to Facebook, would not have allowed these groups to be removed because they did not meet the rigorous criteria to be deemed dangerous to the platform. Facebook is not banning QAnon content from the site in its entirety, Facebook is restricting the ability of the individuals who follow these groups to organize on the platform. QAnon believers can still post these conspiracies on the platform in an individualized manner.
With the expansion of its policy, Facebook takes an important step in stopping the spread of harmful information on its platform. As a result of the expanded policy, Facebook has already been able to take down hundreds of groups and ads tied to QAnon and militia organizations and thousands tied to these movements on Instagram. Whether these changes are effective enough to keep Facebook from being used as a tool to organize violence remains to be seen, however.
--written by Bisola Oni