08/30/2019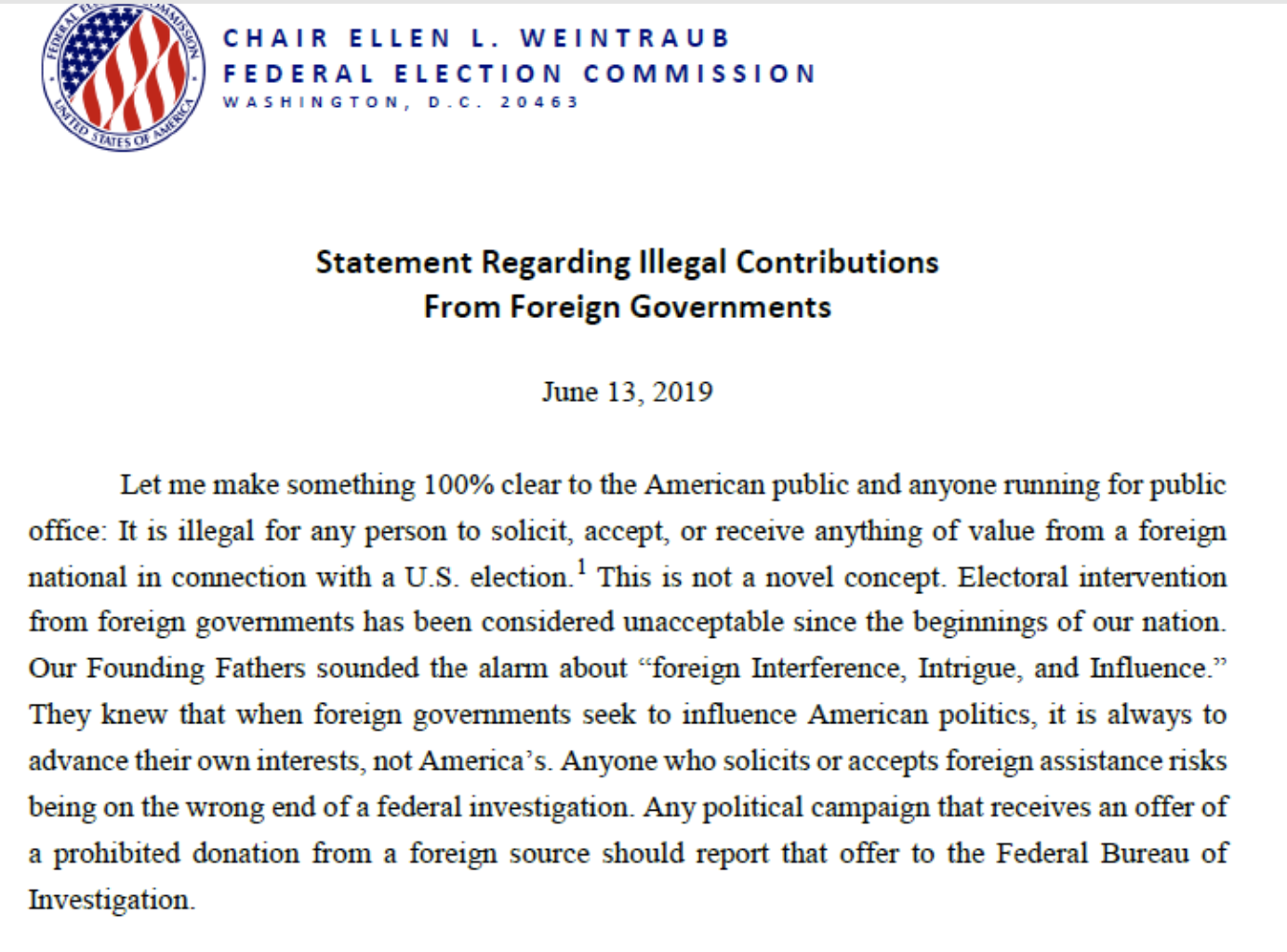 In response to findings that President Donald Trump's 2016 presidential campaign received election assistance from foreign entities, the Federal Election Commission (FEC) has proposed new rules to limit foreign election contributions. [More from NPR] . Earlier this year, two entities—Sai, Fiat Fiendum, Inc. and Make Your Laws PAC, Inc.—petitioned the FEC to amend the definition of "valuable information" under 11 CFR part 100.
Specifically, the proposed changes would narrow the commission's legal definition of a contribution by defining "valuable information" as information that:
Is not freely available to the public;
Is provided to a person regulated by the Federal Elections Campaign Act . . . at a cost less than the market rate or by a person not hired by the recipient to generate such information;
Would cost a non-trivial amount for the recipient to obtain at their own expense; and
Is information that would likely have the effect of influencing any election for federal office or that parties or candidate committees have traditionally expended money to obtain.
If accepted, the following definition will be codified at 11 CFR 100.57.
The proposed regulation outlines two types of "valuable information": "foreign information" and "compromising information."
"Foreign information" would include any information that comes from a source that is prohibited from making contributions under the Federal Elections Campaign Act.
"Compromising information" would include information that could be used to blackmail or otherwise compromise any candidate for Federal office (including indirect coercion, such as of a candidate's family), regardless of the source.
If any campaign official was offered or received either of types of information, the regulation mandates that they report this contact to the FEC within three days. Upon learning of a campaign receiving such information, the regulation requires the FEC to initiate investigations, provide a report to the FBI, and, in the case of "compromising information," provide a report to every reasonably identifiable person against whom such information could be used. Once the FEC has learned of this information, the regulation requires the agency to provide a report to any other law enforcement entity with likely jurisdiction over the matter. Fourteen days later, the FEC must also publish a report on the matter.
Ellen L. Weintraub, the chair of the FEC, signed a notice about the potential new restrictions, further emphasizing the importance of curbing foreign interference in elections. Previously, on June 13, 2019, Weintraub published a statement regarding illegal contributions from foreign governments. "It is illegal for any person to solicit, accept, or receive anything of value from a foreign national in connection with a U.S. election," she reiterated. "Any political campaign that receives an offer of a prohibited donation from a foreign source should report that offer to the Federal Bureau of Investigation."
Currently, the FEC is seeking public comment on this proposed rule. This comment period ends on September 30, 2019. After this phase, the rule will be voted on by the FEC commissioners. In accordance with FEC agency policy, four votes are needed for any official action to proceed. Considering the agency currently has four confirmed commissioners out of six possible, this rule would need a unanimous vote in order to become law.
This administrative action echoes similar efforts in the House and Senate to pass increased election security protections in response to Russia's interference in the 2016 presidential election.