08/16/2020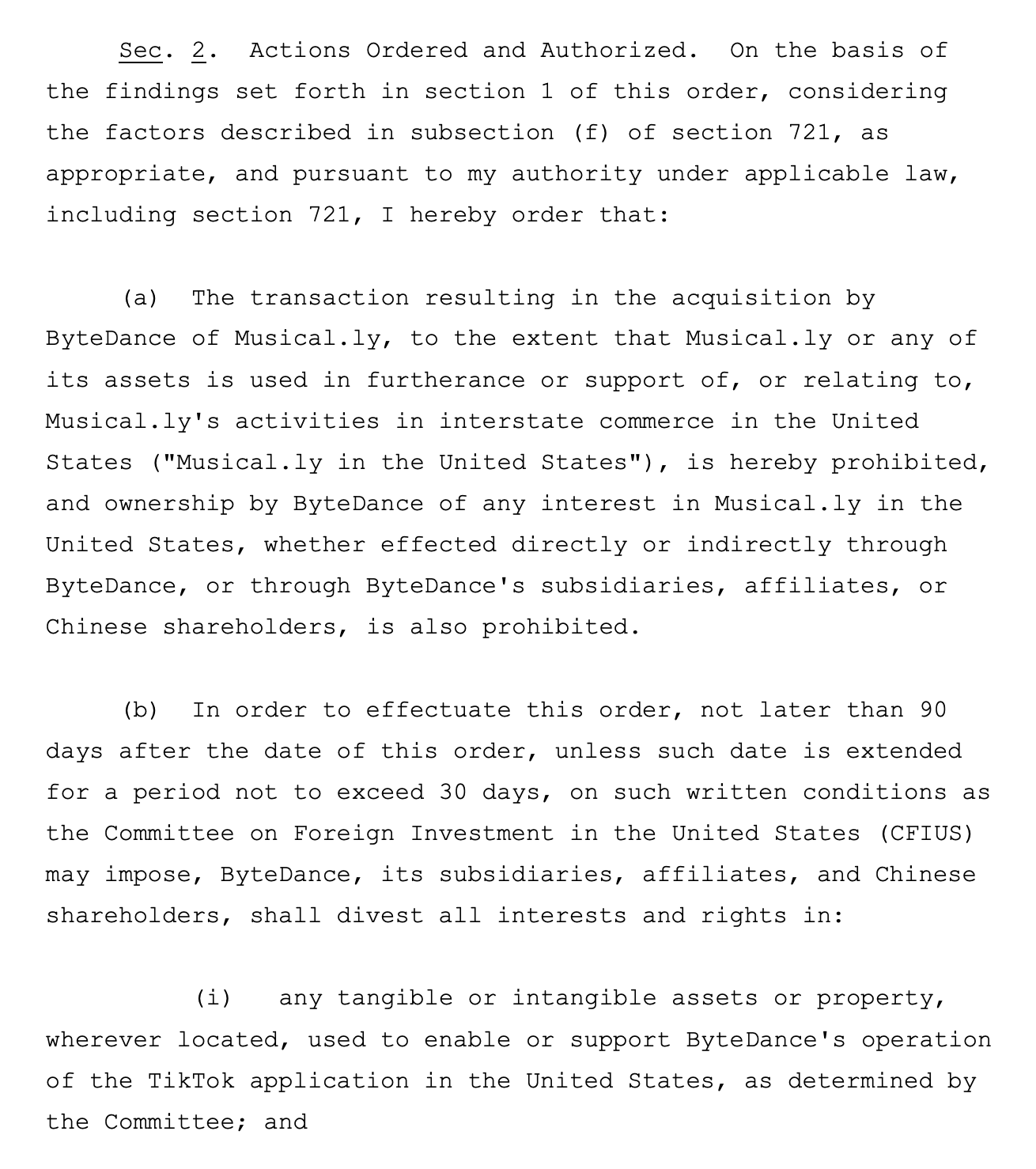 Executive Order Regarding the Acquisition of Musical.ly by Bytedance Ltd., Aug. 14, 2020
On Aug. 14, 2020, Donald Trump issued a second Executive Order directed at Chinese media company ByteDance. The second Executive Order requires ByteDance to divest its ownership of TikTok, the popular social media platform involving short videos, within 90 days. Trump's reason: "There is credible evidence that leads me to believe that ByteDance Ltd., an exempted company with limited liability incorporated under the laws of the Cayman Islands ("ByteDance"), through acquiring all interests in musical.ly, an exempted company with limited liability incorporated under the laws of the Cayman Islands ("Musical.ly"), might take action that threatens to impair the national security of the United States."
Earlier, President Trump and Secretary of State Mike Pompeo announced their desire to ban "untrusted" Chinese tech apps such as, TikTok in an effort to lower national security risks. Pompeo stated that Trump would take action against Chinese software companies that dispersed user data with the Chinese government. Several days later, Microsoft confirmed that it sought out the Chinese technology company that owns TikTok, ByteDance, to acquire parts of TikTok in the U.S. Microsoft ensured that it would work with the U.S. government regarding the deal of acquiring TikTok. Microsoft agreed to provide "proper economic benefits to the United States, including the United States Treasury." (Read Microsoft's Aug. 2, 2020 statement.) Avery Gardiner, general counsel and senior fellow at the Center for Democracy and Technology, points out how deals with conditions set a dangerous precedent for future mergers. CNN suggests that Trump's demand that the U.S. government receive a "substantial amount of money" from any TikTok deal will set a dangerous example for years to come. More particularly, President Trump hopes to receive a "very large percentage" in any deal made regarding this matter. Concerns arise about what that percentage might look like considering TikTok is estimated to be worth $50 billion. Ultimately, President Trump ordered the deal to be set by September 15, otherwise the app would be banned in the U.S.
China made it clear that TikTok will remain with the Chinese technology company, ByteDance – not the United States. China appears to be contemplating various responses if the Trump Administration decided to "smash and grab" TikTok.
The Committee on Foreign Investment in the United States (CFIUS) grants the U.S. government the power to force foreign firms to sell their business to an American company. CFIUS did so with Grindr, a gay dating app. The Chinese owners of Grindr were compelled to sell over the app due to national security concerns. Additionally, CFIUS is already investigating ByteDance, the Chinese tech firm that owns TikTok, over a 2016 acquisition of the app Musical.ly. You can learn more about CFIUS's powers in this review by a US law firm Cooley.
Mike Jones, co-founder and managing partner at Science Inc., told CNN: "The recent events around TikTok will change the way we look at companies that are based in China or have interest in expanding to China, which is often one of the most interesting markets to expand into from the US. The recent developments give us pause and change the way we think about company growth and development when the government could block them from crossing into markets."
Trump sets deadline for sale of TikTok operations in the US https://t.co/tXanpUHtqa

— Financial Times (@FT) August 15, 2020
--written by Alfa Alemayehu