07/19/2019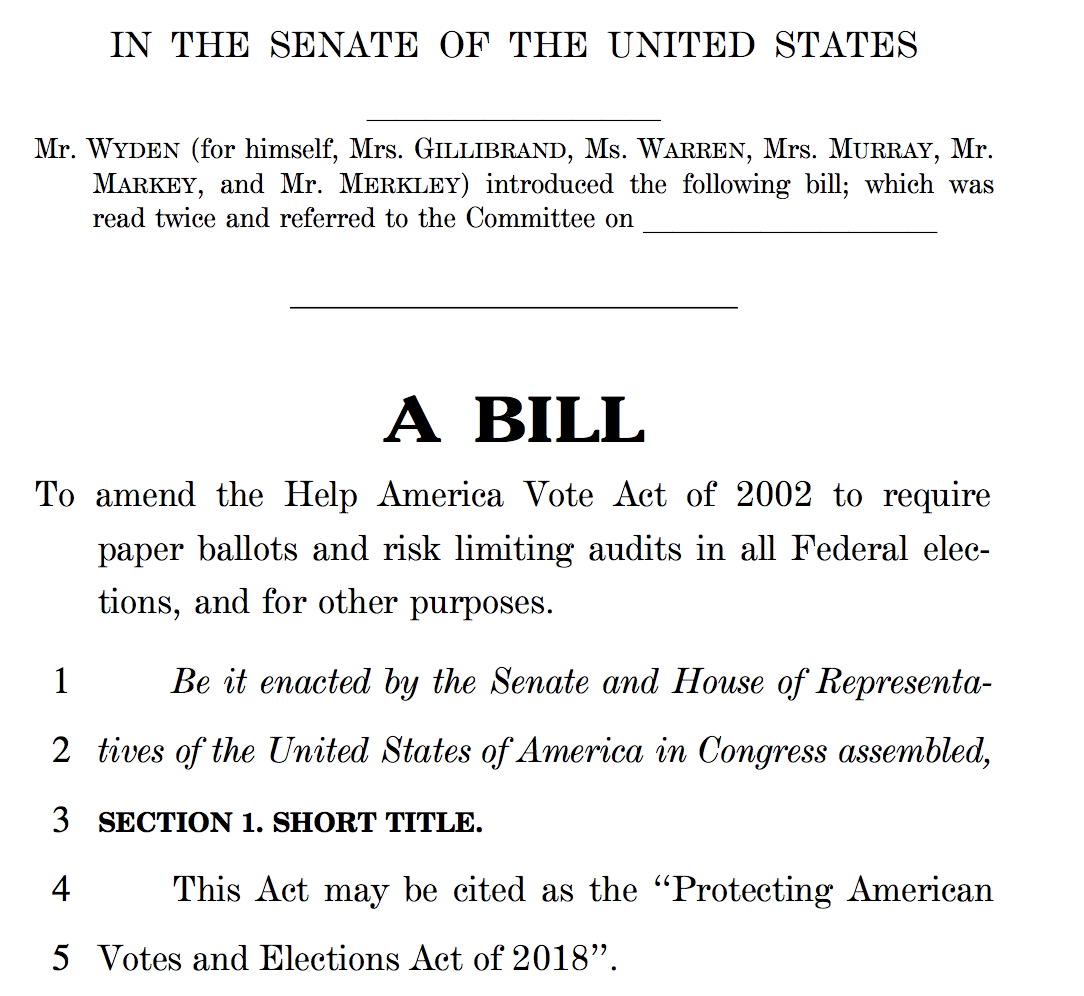 Protecting American Votes and Elections Act of 2019 (PAVE Act)
Washington, D.C. Sen. Ron Wyden, D-Ore., and 14 Senate co-sponsors introduced the PAVE Act requiring paper ballots and statistically rigorous "risk-limiting" audits for all federal elections. In introducing the bill, Wyden said, "The PAVE Act scraps insecure voting machines that are juicy targets for hackers and replaces them with reliable, secure hand-marked paper ballots. It gives states the funding they need to defend their election systems and puts the Department of Homeland Security in charge of setting strong security standards for every federal election." This bill updates aging election infrastructure." Senator Gillibrand "Congress has a responsibility to secure the integrity of our elections, and I am proud to join with Senator Wyden to introduce this bill that strengthens our country's election infrastructure."
The press release described the key provisions of the PAVE Act:
"The new PAVE Act bans internet, WiFi and cellular connections for voting machines, and gives the Department of Homeland Security the authority to set, for the first time, minimum cybersecurity standards for voting machines, voter registration databases, electronic poll books used to 'check in' voters at polling places and election night reporting websites."
"The bill also provides state and local governments with $500 million dollars to buy new, secure ballot scanning machines, and $250 million to buy new ballot marking devices to be used by voters with disabilities. It also permits the federal government to reimburse states the cost of conducting post-elections audits, as well as the cost of designing and printing ballots."
Bots Research Act (H.R. 2860)
On May 22, 2019, Congressman Mark DeSaulnier (CA-11) announced the Bots Research Act (H.R. 2860). According to the press release, this bill would "establish a task force of experts at the Federal Trade Commission (FTC) to determine the impact of automated social media accounts" on elections and public disclosure and to figure out "how to most effectively combat any use of automated accounts that negatively effects social media, public discourse, and elections while continuing to promote the protection of the First Amendment on the internet." DeSaulnier said, "We now know that bot accounts were actively used by foreign agents as part of what the Mueller Report characterized as 'sweeping and systematic' interference in the 2016 presidential election. The accounts spread false information and manipulate public opinion and threaten free elections and the democratic process."