08/19/2020
With millions of users within the United States on Facebook and Twitter, Internet platforms are becoming a common source of current event news, information, and outlets for socialization for many Americans. These social media platforms have been criticized for allowing the spread of misinformation regarding political issues and the COVID-19 pandemic. These criticisms began after misinformation spread during the 2016 U.S. presidential election. Many misinformation sources went unchecked, therefore millions of Americans were convinced they were consuming legitimate news sources when they were actually reading "fake news." It is safe to say that these platforms do not want to repeat those mistakes. Ahead of the 2020 U.S. elections, both Facebook and Twitter have taken various actions to ensure misinformation is not only identified, but either removed or flagged as untrue with links to easily accessible, credible resources for their users.
Facebook's Plan to Stop Election Misinformation
Facebook has faced the most criticism regarding the spread of misinformation due. Facebook has created a voting information center, similar to a COVID-19 one, that will appear in the Facebook and Instagram menu.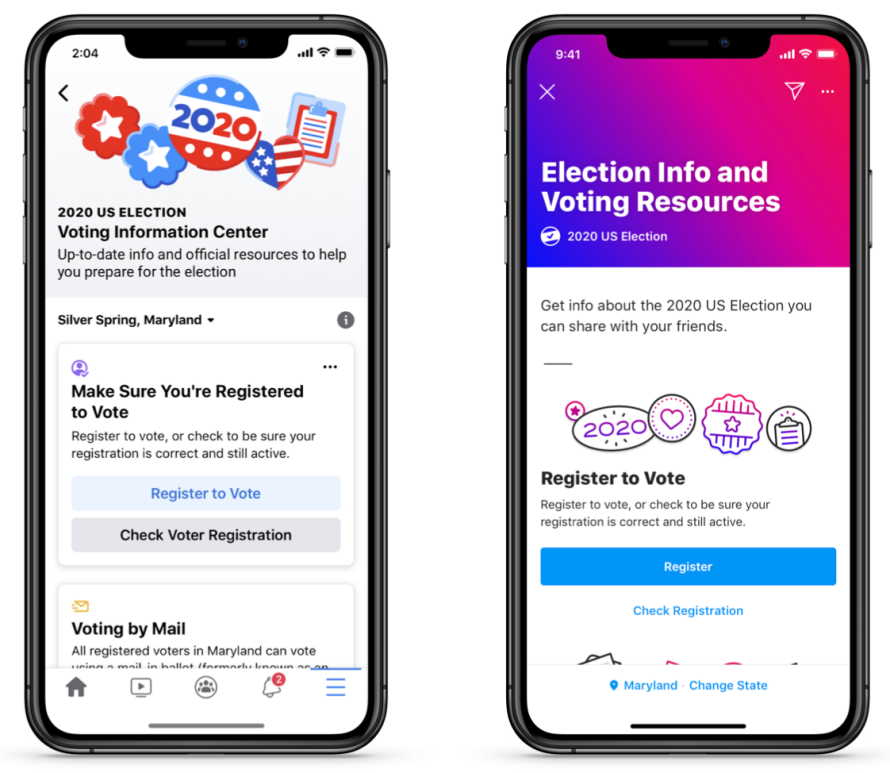 Facebook's Voting Information Center
This hub will target United States users only and will contain election information based on the user's geographic location. For example, if you live in Orange County, Florida, information on vote-by-mail options and poll locations in that area will be provided. In addition, Facebook plans on adding notations to some posts containing election misinformation on Facebook with a link to verified information in the voting information center. Facebook will have voting alerts which will "communicate election-related updates to users through the platform." Only official government accounts will have access to these voting alerts. Yet one sore spot appears to remain for Facebook: Facebook doesn't fact-check the posts or ads of politicians because, as CEO Mark Zuckerberg has repeatedly said, Facebook does not want to be the "arbiter of truth."
Twitter's Plan to Stop Election Misinformation
Twitter has been in the press recently with their warnings on the bottom of a few of President Trump's tweets for misinformation and glorification of violence. These warnings are part of Twitter's community standards and Civic Integrity Policy, which was enacted in May 2020. This policy prohibits the use of "Twitter's services for the purpose of manipulating or interfering in elections or other civic processes." Civic processes include "political elections, censuses, and major referenda and ballot initiatives." Twitter also banned political campaign ads starting in October 2019. Twitter recently released a statement stating its aim is to "empower every eligible person to register to vote," by providing various resources for them to educate themselves on issues surrounding our society today. Twitter officials stated to Reuters they will be expanding their Civic Integrity Policy to address election misinformation, such as mischaracterizations of mail-in voting. But, as TechCrunch points out, "hyperpartisan content or making broad claims that elections are 'rigged' ... do not currently constitute a civic integrity policy violation, per Twitter's guidance." Twitter also announce dthat it will identify with a notation state-affiliated media, such as from Russia:
When it comes to conversations with government and state-affiliated media accounts on Twitter, we're helping to make the experience more transparent.

We'll now use two distinct profile labels for these types of accounts, so you can easily identify them and their Tweets. (1/2) pic.twitter.com/JW67o422MO

— Twitter Support (@TwitterSupport) August 6, 2020
In addition to these policies, Facebook and Twitter, as well as other information platforms including Microsoft, Pinterest, Verizon Media, LinkedIn, and Wikimedia Foundation have all decided to work closely with U.S. government agencies to make sure the integrity of the election is not jeopardized. These tech companies have specifically discussed how the upcoming political conventions and specific scenarios arising from the election results will be handled. Though no details have been given, this seems to be a promising start to ensuring the internet does more good than bad in relation to politics.
Joint industry statement on ongoing election security collaboration between tech companies and USG agencies tasked with protecting the integrity of the election pic.twitter.com/c1fHERHWtw

— Facebook Newsroom (@fbnewsroom) August 12, 2020
--written by Mariam Tabrez