07/05/2019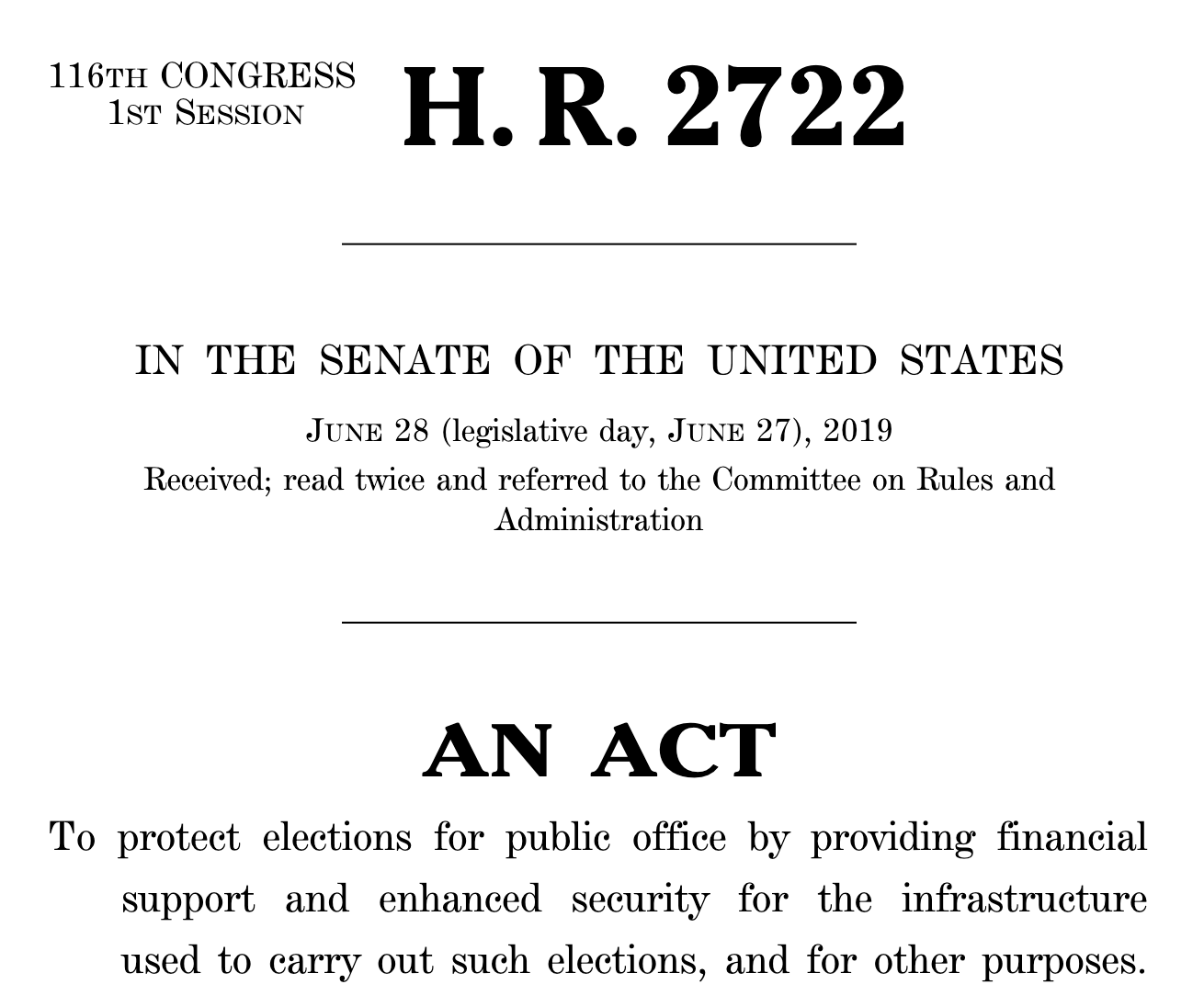 On Thursday, June 27, 2019, the United States House of Representatives passed H.R. 2722, an election security bill aimed at strengthening the nation's election system. Introduced by Rep. Zoe Lofgren (D. Calif.), the Securing America's Federal Elections (SAFE) Act authorizes $600 million to update voting equipment to comply with new standards.
The SAFE requirements mandate that voting machines be manufactured in the United States, stay disconnected from the Internet, and produce paper records;
The SAFE bill provides an additional $175 million biannual appropriation for "sustainment" funds for maintain election infrastructure and
a $5 million grant program administered by the National Science Foundation (NSF) to research accessible paper ballot verification methods. [The Hill]
The bill passed the House floor in a near party-line vote 225 to 184; Rep. Brian Mast (R-Fla.) was the only Republican to vote for the bill. [Washington Post] In a party conference before the vote, House of Representatives Speaker Nancy Pelosi (D-Calif.) described the bill as an effort to "further strengthen the defense of our democracy." At the same conference, Senate Minority Leader Charles Schumer (D-N.Y.) said, "We're standing with our House colleagues today—we're standing with the American people today, to protect the integrity of our elections." Much of the Democratic support stems from the Special Counsel Robert Mueller's report finding foreign political influence in the 2016 presidential election.
Though legislators from both parties have acknowledged the need for increased election security, the parties disagree how to achieve this goal. While congressional Democrats view the bill as a safeguard against foreign interference, their Republican counterparts view the bill as a form of federal encroachment into an area (overseeing elections) traditionally regulated by the states. Rep. Rodney Davis (R.-Ill.), the ranking Republican of the House Administration Committee, stated that the bill "focuses on forcing states to restructure their election systems through federal mandates and ignores states' rights to choose the election system that best fits their unique needs." [The Roll Call]
The bill faces steep opposition in the Senate. On Thursday morning, Senate Majority Leader Mitch McConnell (R-Ky.) deemed the bill a "nonstarter." Citing Congress's previous grant of $380 million to states for election security, McConnell believes additional funding unnecessary, as reported by the New York Times. On Tuesday, June 25, Sen. Amy Klobuchar (D-Minn.) tried to force a vote on a measure that would require backup paper ballots and authorize $1 billion in grants for states to improve election protection until Sen. James Lankford (R-Okla.) blocked the move. [The Hill] In the week prior, Sen. Marsha Blackburn (R.-Tenn.) similarly blocked Sen. Mark Warner's (D-Va.) attempt to bring forth a bill requiring campaigns to report to the Federal Election Commission any foreign nationals who make donations or provide election assistance. [The Hill]
Criticizing Republican opposition to the bill, Sen. Ron Wyden (D-Ore.) emphasized how Democrats would spend the upcoming July 4th holiday "fanning out all across the country" to advocate for election security measures. "We're going to have a simple message: pass legislation with provisions of the SAFE Act, and tell Mitch McConnell that the future of our democracy is too important for him to stand in its way," Sen. Wyden expressed. [The Roll Call] Speaker Pelosi announced that election security officials would brief Congress on July 10 in an effort to further increase pressure on Leader McConnell. [The Hill]