08/30/2019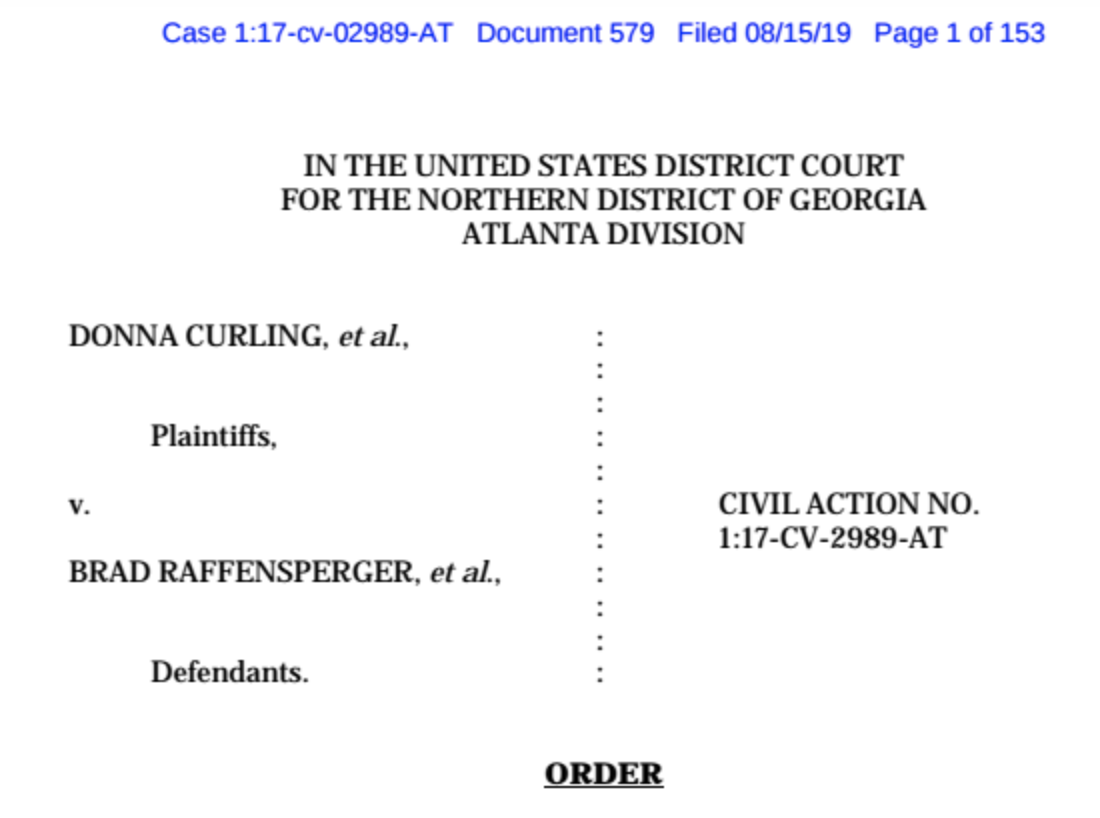 On Thursday, August 15th, Federal District Court Judge Amy Totenberg ordered the state of Georgia to upgrade its election systems before the state holds its presidential primary election in March of 2020. The 151-page ruling describes Georgia's election system as "antiquated, seriously flawed, and vulnerable to failure, breach, contamination, and attack." Although she has previously ordered Georgia to upgrade its election systems, Thursday's order marks the first time Judge Totenberg has set a specific deadline that Georgia officials must meet.
Georgia is one of a handful of states that relies exclusively on electronic voting systems that do not provide a paper record. Election security experts have roundly criticized such systems, noting that they are vulnerable to hackers and susceptible to logistical problems. Indeed, election security experts have identified a number of significant security breaches that occurred during the 2018 election.
Due to these concerns and previous orders from Judge Totenberg, Georgia had announced plans to upgrade its voting systems prior to Thursday's ruling. In July, Georgia's Secretary of State Brad Raffensperger publicly announced that the state would purchase new electronic voting machines from Dominion Voting Systems. The machines will print out a paper ballot and a QR code that both voters and election officials can use to verify vote tallies. The Associated Press notes that while Judge Totenberg has praised the new machines as "an essential step forward out of the quagmire, even if just to terminate use of antiquated voting system," plaintiffs remain skeptical of the new machines, specifically questioning the extent to which voters will be allowed to verify their selections rather than relying on a printed QR code. Because of these concerns, plaintiffs have publicly announced their intention to bring separate litigation over the newly proposed machines.
Judge Totenberg's ruling was prompted by a motion from plaintiff voters and election security advocates asking the court to force Georgia officials to use paper ballots during upcoming 2019 municipal elections. Citing logistical concerns, Judge Totenberg held that the state would not have enough time to implement a paper ballot system in time. However, she notes that use of the current system "past this 2019 cycle of elections is indefensible given the operational and constitutional issues at stake."
The ultimate effect of Thursday's ruling is to prevent Georgia from reverting to current election systems if newly proposed voting machines are not rolled out in time for 2020 elections. As a result, Georgia will have to resort to a paper balloting system in 2020 if new systems are not in place. In preparation for this contingency, Judge Totenberg's order requires the Secretary of State to "address errors and discrepancies in the voter registration database" and test the use of a paper balloting system in a handful of jurisdictions during the state's upcoming municipal elections.