07/20/2020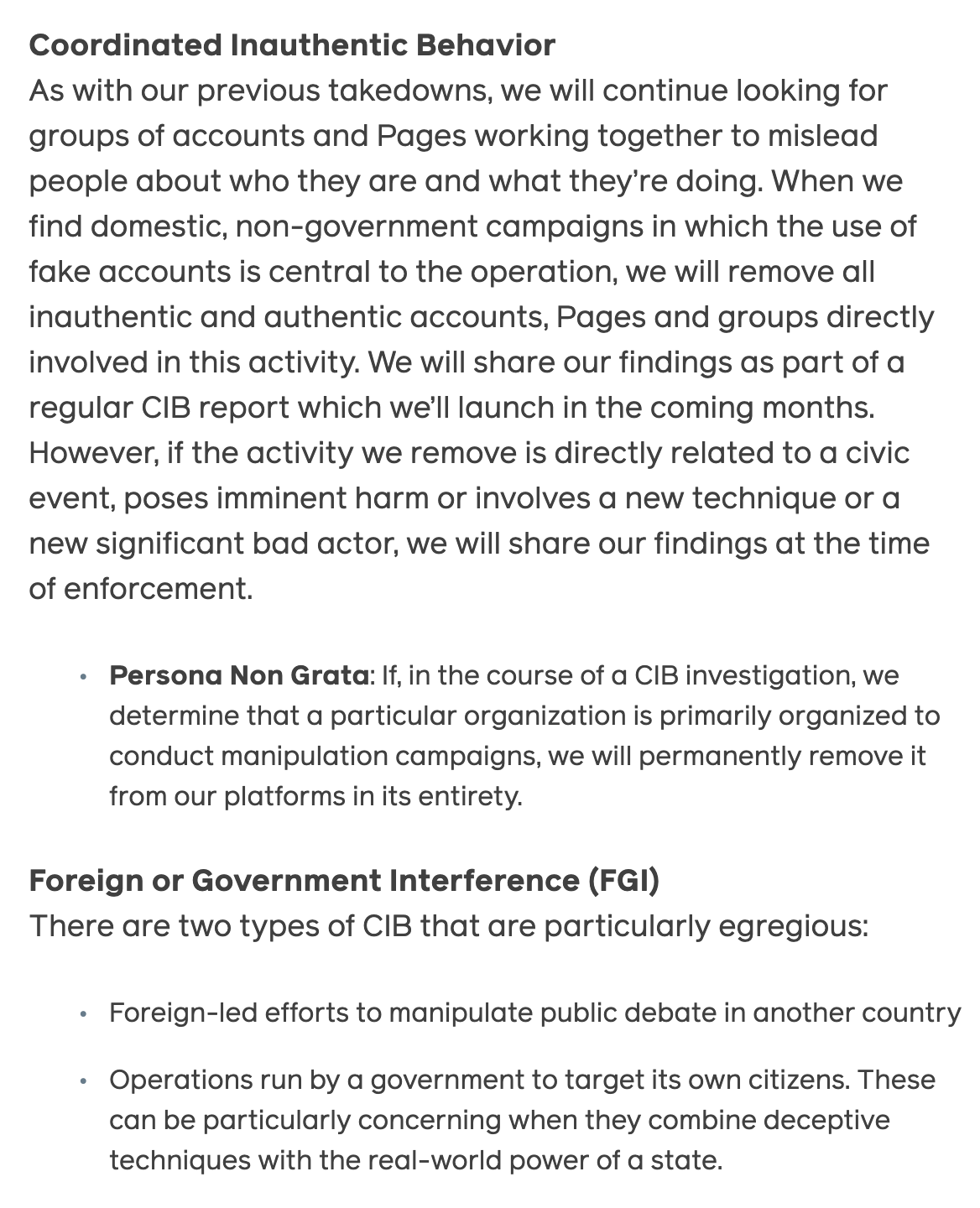 Facebook recently reported that it removed various networks, accounts, and pages from its Facebook and Instagram platforms for violations of its foreign interference policy.
Facebook defines "foreign interference" as "coordinated inauthentic behavior on behalf of a foreign or governmental entity." Thus, removals resulting from a violation of the foreign interference policy are based on user behavior – not content. The removed networks originated in Canada and Ecuador, Brazil, Ukraine, and the United States.
According to Nathanial Gleicher, Facebook's Head of Security Policy, these networks involved "coordinated inauthentic behavior" (CIB). This means individuals within each network coordinated with each other through fake accounts to mislead people about who they were and what they were doing. The network removals resulted from the focus on domestic audiences and associations with commercial entities, political campaigns, and political offices.
As outlined in Facebook's report, the Canada and Ecuador network focused its activities on Argentina, Ecuador, El Salvador, Chile, Uruguay, and Venezuela. Individual accounts and pages in this network centered on elections, taking part in local debates on both sides. Some individuals would create fake accounts, posing as locals of the countries they targeted; others posed as "independent" news platforms in the countries they targeted. This network alone had 41 accounts and 77 pages on Facebook, and another 56 Instagram accounts; 274,000 followers on one or more of the 77 Facebook pages and 78,000 followers on Instagram; spent $1.38 billion on Facebook advertising.
The Brazil network spawned 35 Facebook accounts, 14 Facebook pages, 1 Facebook group, and 38 Instagram accounts. The Brazil network's efforts used a hoard of fake and duplicate accounts – some posing as reporters, others posting fictitious news articles, and pages alleging to be news sources. This network collected nearly 883,000 followers, 350 group followers, 917,000 followers on their Instagram accounts, and it also spent $1500 on Facebook advertising.
The Ukraine network created 72 fake Facebook accounts, 35 pages, and 13 Instagram accounts. According to Facebook, this account was most active during the 2019 parliamentary and presidential elections in Ukraine. Nearly 766,000 followed one or more of this network's fake pages, and 3,800 people followed at least one of the Instagram accounts.
The United States network possessed 54 Facebook accounts, 50 pages, and 4 Instagram accounts. Individuals in this network posed as residents of Florida – posting and commenting on their own content to make it appear more popular. Several of the network's pages had ties to a hate group banned by Facebook in 2018. According to Facebook, this network was most active between 2015-2017. This network gained 260,000 followers on at least one of its Facebook pages and nearly 61,500 followers on Instagram. The network also spent nearly $308,000 on Facebook advertising.
In the past year alone, Facebook has removed nearly two million fake accounts and dismantled 18 coordinated public manipulation networks. Authentic decision making about voting is the cornerstone of democracy. Every twenty minutes, one million links are shared, twenty million friend requests are sent, and three million messages are sent. Despite Facebook's efforts, it's likely we will encounter foreign interference in one way or another online. So, each of us must take steps to protect ourselves from fake accounts and foreign manipulation.
--written by Alison Hedrick