09/01/2020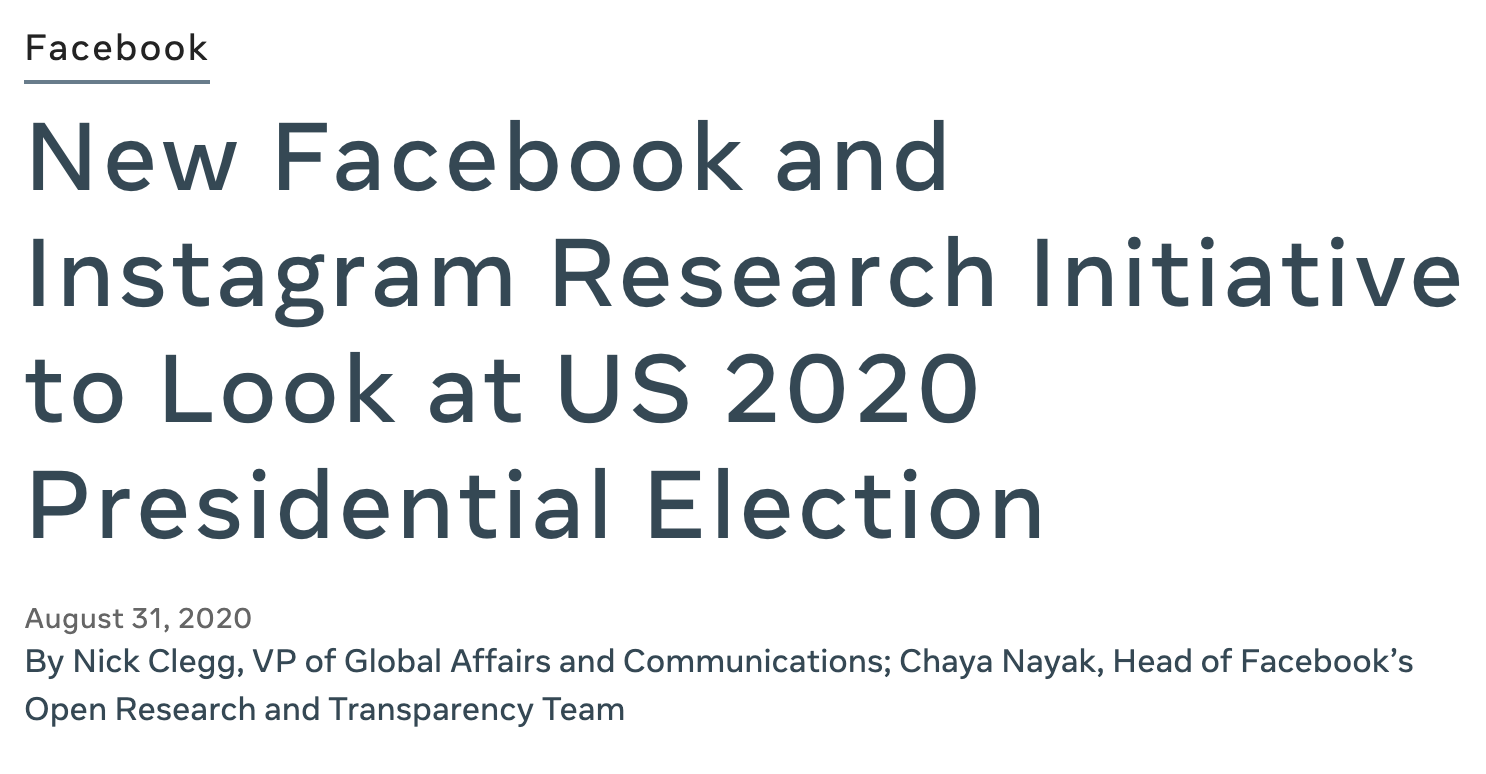 On Aug. 31, 2020, Facebook announced a new research initiative it started with Social Science One committee chairs, Professors Talia Stroud of University of Texas at Austin and Joshua Tucker of New York University. The researchers will examine "examine the impact of how people interact with our products, including content shared in News Feed and across Instagram, and the role of features like content ranking systems." The research projects conducted on Facebook or via data from Facebook will start soon and end in December, after the November 2020 election. Facebook "expect[s] between 200,000 and 400,000 US adults may choose to participate in the study, which could include things like taking part in surveys or agreeing to see a different product experience. We will also study trends across Facebook and Instagram – but only in aggregate."
Interestingly, Facebook believes that the research projects will not affect the outcome of the U.S. elections: "With billions of dollars spent on ads, direct mail, canvassing, organizing and get out the vote efforts, it is statistically implausible that one research initiative could impact the outcome of an election. The research has been carefully designed to not impact the outcome of the election or harm participants. The sample of participants represents approximately 0.1% of the entire US eligible voting population spread across the US. By better understanding how people use our platform during an election, we can continually enhance the integrity of the platform moving forward."
Facebook seems to gloss over the fact that a few swing voters in key swing states or precincts could ultimately determine the outcome of some of the elections. Without knowing the details of the various research projects, it's hard to evaluate the potential effect they may have on voters.
The independent researchers are:
Hunt Allcott, New York University
Deen Freelon, University of North Carolina at Chapel Hill
Matthew Gentzkow, Stanford University
Sandra Gonzalez-Bailon, University of Pennsylvania
Andrew Guess, Princeton University
Shanto Iyengar, Stanford University
Young Mie Kim, University of Wisconsin-Madison
David Lazer, Northeastern University
Neil Malhotra, Stanford University
Brendan Nyhan, Dartmouth College
Jennifer Pan, Stanford University
Jaime Settle, William & Mary
Talia Stroud, The University of Texas at Austin
Emily Thorson, Syracuse University
Rebekah Tromble, The George Washington University
Joshua A. Tucker, New York University
Magdalena Wojcieszak, University of California, Davis; University of Amsterdam
Facebook describes the scope of research projects as follows:
The independent academics are collaborating with Facebook researchers to design a diverse set of studies to analyze the role of Facebook and Instagram in the US 2020 election. To collect the information for the study, we are partnering with NORC at the University of Chicago, an objective, non-partisan research institution that has been studying public opinion since 1941. NORC possesses deep expertise in survey research, policy evaluation, data collection, advanced analytics and data science. The study was approved by NORC's Institutional Review Board.
For people who have explicitly opted in to the study, we plan to combine multiple research methods, including surveys and behavioral data analysis, along with targeted changes to some participants' experiences with Facebook and Instagram. For example, participants could see more or fewer ads in specific categories such as retail, entertainment or politics, or see more or fewer posts in News Feed related to specific topics. Other participants may be asked to stop using Facebook or Instagram for a period of time. A subset of participants may be asked to install an app on their devices – with their permission – that will log other digital media that they consume. This will allow researchers to understand more comprehensively the information environment that people experience.