07/07/2020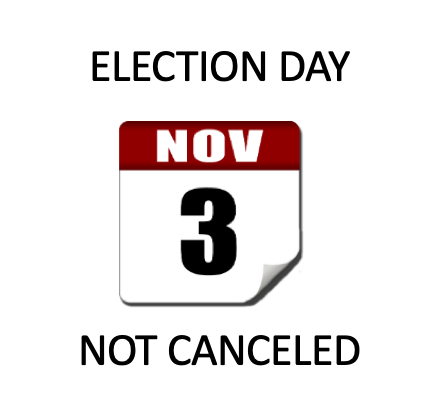 The United States is experiencing another wave in coronavirus infections, with twenty-one states seeing an increase in their daily infection rates. With alarm bells ringing, many have expressed logistical concerns about the upcoming presidential election. There are two main concerns about Election Day 2020, which is November 3, 2020:
Postponement or cancellation of the election; and
Mitigation of the increasing coronavirus infection rate at polling locations.
Canceling or postponing Election Day 2020 is highly unlikely.
The president does not have the legal authority to cancel the November 3rd election. First, federal statute specifes "the Tuesday next after the first Monday in the month of November" shall be federal Election Day. Moreover, the states are the ones who conduct the operations of elections in each state. And only states have the power to change their election laws, according to Jason Harrow, executive director and chief counsel of Equal Citizens.
Rest assured, overstaying one's welcome at the White House is not possible. The Constitution prevents presidents from remaining in office past their elected term. Under the 20th Amendment, the president's term automatically ends on January 20th at noon after a four-year term. If a candidate hasn't been elected by then, Congress decided long ago the Speaker of the House will become acting president.
Congress can't cancel the election either. But Congress can postpone the election by passing a new federal law. Under Article II, § 1 of the Constitution, Congress has the power to determine the date the election takes place. Thus, Congress could pass a bill before November – but it's unlikely. As Jerry Goldfeder explains, American presidents and legislators have never canceled or postponed any of the fifty-eight previous presidential elections – not for wars, not for terrorist attacks, and not for the Spanish flu. There is little doubt the presidential election will take place. Nonetheless, the logistics are unclear.
How can Americans stay safe and exercise their constitutional right to vote?
It's reasonable to say Election Day this year will not be postponed or canceled. So, what other options do Americans have? Currently, four ideas are being pushed forward:
Expanding the number of polling places;
Encouraging early voting;
Developing a time span (e.g., two weeks) within which people can vote; and
Expanding voting-by-mail and absentee voting.
After conducting the research, voting-by-mail is the most tenable path forward to mitigate risks of exposure to the coronavirus.
Reports by the Brennan Center for Justice and Leadership Conference on Civil Rights show polling place expansion is unlikely. Since 2012, states around the country have closed nearly two thousand polling places. The pandemic has fanned the flames of this trend. For this to work, states need to open more locations where voters can cast their votes and train a horde of new polling volunteers before November – both of which are not likely.
Early voting would help with social distancing measures by reducing crowd sizes. But some states, like Utah, have canceled their early voting options. As more Americans contract the coronavirus, it is unclear whether this is will be an option for voters in November. Legislators have not yet jumped on the "time-frame" option for in-person voting. The fourth option, voting-by-mail, is the most controversial.
Fact Check: Cases of Voter Fraud in the Voting-by-Mail Context Is Rare.
Twitter sparked controversy when it added a "fact check" label to President Trump's tweet about California's expansion of voting-by-mail procedures for the presidential election. In the tweet, President Trump claimed voting-by-mail expansions would lead to "rigged elections." But Trump himself voted by mail in 2018, and, in the past, Mike Pence, Ivanka Trump, Jared Kushner, Kayleigh McEnany, Bill Barr, Besty DeVos, Larry Kudlow, Wilbur Ross, Kellyanne Conway, and Alex Azar [source].
But should Americans be concerned about voter fraud in the context of voting-by-mail?
According to surveys and polls, 72-78% of American voters want the option to vote-by-mail in the upcoming presidential election. At this time, 33 states allow voting-by-mail without an excuse. 5 states conduct all elections by mail. In response to the pandemic, many states have changed their voting procedures – forty-six states, both Democratic and Republican controlled, now allow voting-by-mail in some form.
According to MIT's Election Data and Science Lab, voting-by-mail began during the Civil War, where soldiers on both sides cast their ballots from the battlefield. Since then, instances of voter fraud have been rare. Two most infamous cases occurred in Florida (acts of false witnessing) and Georgia (selling votes). More recently, a Republican campaign representative in Maryland got caught collecting blank ballots and filling the ballots out in favor of a former congressional candidate, Mike Harris.
Experts reject the recent hype about voter fraud in the voting-by-mail context. Over the past two decades, 250,000 votes were submitted via mail-in ballots. Based on the Heritage Foundation's database on voter fraud, only 1,285 instances of voter fraud were found, yielding 1,110 criminal convictions. From the 1,110 convictions, only 204 cases concerned alleged fraudulent use of absentee ballots. You can find a detailed record of every voter fraud case here. This means over twenty years, there have been about ten cases of voter fraud per year.
Of course, with any voting procedure, safeguards need to be implemented. Professor Ned Foley, an election law expert, has identified a need for states to clarify their procedures should a candidate contest the results of mail-in ballots, in a much discussed article "Why Vote-by-Mail Could be a Legal Nightmare in November." Foley recommends: "But states — especially battlegrounds in the presidential election — should clarify as soon as possible the rules that their own courts are supposed to use in litigation that might arise over counting absentee ballots. It is not enough that state law has rules for casting ballots. There needs to be clarity on whether ballots can still count if something has gone wrong in the process of casting of them, especially if the problem is not the voter's fault."
Standing in long lines, for countless hours, is not a reasonable option this election season because it will certainly increase the spread of the deadly virus. Foley warns: "There's no question that, for public health reasons, expanding vote-by-mail is a wise decision for states to be making right now."
It's clear: Voting-by-mail is not perfect or full-proof. There are rare instances that justify some degree of concern. However, states should allow voting-by-mail due to the higher risk of contracting the coronavirus.
-written by Allison Hedrick